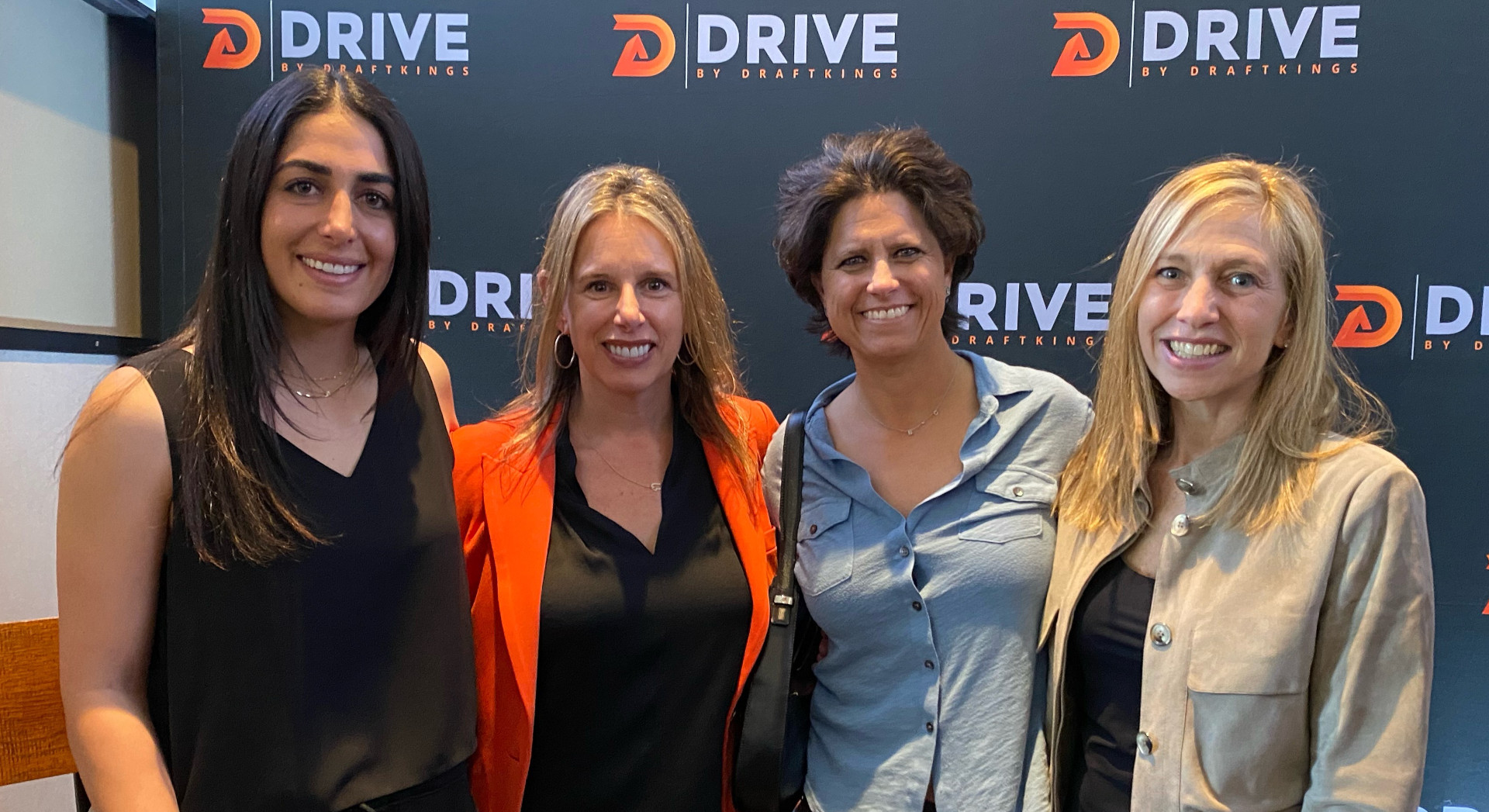 The power and influence of women in sports continues to be one of the most significant growth opportunities in our mature sports market today. For me and so many others, this comes as no surprise. Women compete with courage, passion and grit. Most have learned to connect with their fan base and share their stories through social media and streaming platforms while broadcast look elsewhere for content. Now women's sports have become a "field of dreams", drawing fans from everywhere to catch the next great play. Along the way or in the process, delivering a strong business case for continued investment.
With a heavy emphasis on sports and gaming, our team at Drive by DraftKings watches the space closely and we love what we are seeing. We are investors in Just Women's Sports, a digital-first media platform dedicated to bringing women's sports to the masses, and close partners with Julie Uhrman, who is part of our All-Star Network and the Co-founder and President of Angel City FC.
The sector has exploded in terms of viewership and attendance numbers by providing a 'product' that fans want to watch, so we are moving full steam ahead in the right direction. However, to ensure women's sports collectively reach its pinnacle, the entire village of stakeholders, from fans to investors to sponsors, need to show up by watching, investing in and covering women's sports even more.
Not Just a Man's World
The concept of females at the elite levels of athletics was certainly assisted by the passage of Title IX in 1972. According to the Women's Sports Foundation, Title IX was a catalyst for the growth of sport participation opportunities for girls and women at the high school and college levels. For example, in 1972, less than 300,000 girls played high school sports, 7% of which participated on varsity teams. Those numbers stood at more than 3.4 million and 43% respectively in 2018-19.
While countless females have become household names in sports like soccer, tennis, skiing, swimming, figure skating and gymnastics for decades, the fanbase has felt limited to World Cup or Olympic years. As a woman, former collegiate athlete, and the mom of a female athlete, it is refreshing to watch the sea change that has taken place in the last decade as greater numbers of female athletes and teams have become household names. And spectators cannot seem to get enough.
Play it Her Way
Who can forget watching Brandi Chastain, Mia Hamm and their teammates fight to a thrilling victory in the 2000 Women's World Cup – and of course, Brandi's now iconic on-field celebration. That win changed the trajectory of consumption and excitement for women's soccer and no doubt ignited the elite sporting dreams of thousands of young girls as sports fans across genres sat up and took note.
And this past winter we saw Caitlin Clark's phenomenal 1,000 point, 300 assists season for the Iowa Hawkeyes women's basketball team, a first in NCAA Women's Division I history. In fact, NCAA Women's Basketball is a perfect example of viewership growth – talk about a slam dunk for fans, broadcasters and sponsors, as viewership of the women's tournament rose – while that of the men's game declined.
Women's sporting events have gained such traction that according to a Nielson survey looking at eight key markets around the world (U.S., U.K., France, Italy, Germany, Spain, Australia and New Zealand), 84% of sports fans are interested in women's sports. Perhaps even more compelling is that of those fans, 51% are male. Given the 'bench strength' that exists in the sheer volume of female athletes coming up the ranks, it is not unreasonable to expect the fanbase to grow even further.
Even sports once thought of as male-only have significantly increased their profile as sports for women. 25 years ago, when the US Women won hockey gold at the 1998 Olympics, it changed everything for the women in the sport. According to USA Hockey, girls' hockey is among the fastest-growing youth sports in the US, with participation growing 34% in the past 10 years. We are so proud of our All Star Network member, Hilary Knight, for helping create more opportunities for young girls and women in the sport with her winning approach to all things on and off the ice.
All About the Benjamins
As recently noted in TechCrunch, the women's NCAA 2023 tournament generated 177 million impressions and $5 million+ in social value, and female athletes are garnering twice the social engagement compared to their male counterparts, despite having fewer followers on average. The value of women's sports is clearly on the rise, and corporates and sports organizations alike are voting with their feet.
Earlier this year, Ally Financial struck a one-year, multi-billion-dollar deal with ESPN requiring that 90% of its investment be put into women's sports. And Google formed a partnership with The Athletic to provide increased tools and resources for the publication's newsroom, ultimately geared toward doubling the amount of women's sports coverage produced.
But more needs to be done by broadcasters and sponsors alike at a commercial level to not only pay the market value for the rights to women's sports but also to help balance the coverage of women's and men's sports. This in turn will have an impact on pay equity for women in sports.
Make no mistake. Progress has been made, led memorably by the USWNT's fight for the same pay as the USMNT. And, the Premier Hockey Federation not only announced it would double each team's salary cap, but is reported to be in talks with investors about opportunities with existing and expansion teams, which the PHF values at $5M-$7M, a ten-times multiple for the average team.
But, the wheels of progress must keep turning. Female athletes across sports are producing a "product" that is just as compelling to watch as their male counterparts. As the world comes down from Women's World Cup fever and we await final global viewership stats, we already know that the final between England and Spain drew record audiences in both countries. Somewhat unsurprising as after the Group Stage of play, FIFA shared that over 1.7M tickets were sold, comfortably surpassing targets; broadcast records had been broken across multiple countries; and digital traffic at that point was greater than that of the entire 2019 tournament. The global sense of excitement around the Women's World Cup will certainly continue to have a trickle-down effect on interest in women's sports generally.
Indeed, there is an ever-expanding fanbase for women's sports but the progress that is needed will ultimately be driven by corporations and the media putting their weight behind women's sports in the same way they do for the men – by injecting even more money into the system by way of sponsorships, media rights and visibility. This high quality product has certainly proven its worth.
Game On, Ladies!
There is no doubt that the world has only just begun to realize the significant market opportunity that exists for investors, sponsors and media outlets alike as women's sports continue to grow in importance.